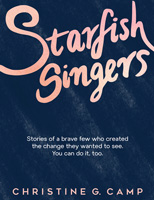 Starfish Singers Paperback
OUT OF STOCK
These are seven stories of brave women, past and present, who dared to fight stereotypes and oppression to change their world. You can do it, too.
The Starfish Singers are women like Amanda Jolley, a creative genius who designed a life-changing program that is empowering at-risk students to break free from generational violence; Virginia Woolf, a first-wave feminist who despite a debilitating illness used her eloquent writing to confront gender inequality…

Keep on Reading & Where to buy 
Latest Blog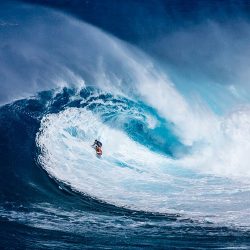 Learning to Ride the Publishing Wave on Amazon
'All In or Going Wide'
It's almost a year since self-publishing my first book Starfish Singers. What a learning curve. The publishing world is like one big gigantic wave. And while some authors are enjoying riding their publishing wave, others may be struggling with the basics of the whitewash and getting started.
Serious authors, like surfers, understand their terrain and work with the elements. From understanding our own natural writing style to learning from others and working with a team to produce the best version of a book we can. Continue Reading…
A great read for young and old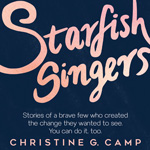 This little classic is a "thinking" book for all. Young readers can be inspired that they are not too young to create the change they want to see. Life can be tough but they can make a difference. Older readers can admire our past trail blazers. And thank goodness we had them. Even though we may be older we can make a difference too. We need to be brave and go after our dreams.
Trish Lawson
From business woman to community service student
Truly inspirational and kick starts the process of change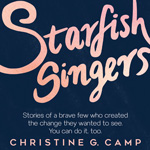 I firmly believe that Christine has created a wonderful book that is going to be a catalyst for many people to start a new journey. Be it education of finances or stepping out to do something they thought impossible. The Starfish Singers stories make the impossible, possible.
Hayley Solich
Chairperson, Women Can International Inc.
Stories that shine light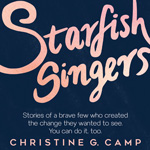 Christine has a unique story telling voice that takes the reader into their world. It is a highly creative piece of writing that commissions readers to draw from present and past heroes. The Starfish Singers is a shining light challenging us to evaluate our lives with transparency, wisdom and realistic hope. We can change our world, it starts with the change in us.
Marie Prospero
School Chaplain
A very talented author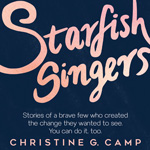 I love this book and the clever way Christine writes, making the reader feel they are actually in that time and place of the story.  A very talented author.