It was time to plough the farmer's field. From my terrace, I watched the worker walk along the narrow pathway spying out the rice paddy. It was the same grass pathway I had been warned by locals to walk along very slowly. The day before I had hesitated at a particular spot and looked down into the water. Every hair on my body stood to attention watching the python slithering across the water.
Holding that traumatic vision in my mind, I strolled to the edge of my balcony and stared at the man. Who would plough a field filled with deadly snakes?
The farmer of the field walked down the path and waved to the worker. There was a brief exchange between the men, and then the worker left. Later, I was inside my bungalow when I heard the sound of a chugging tractor. I grabbed a coffee and headed back out onto the terrace and sat to enjoy the day's entertainment.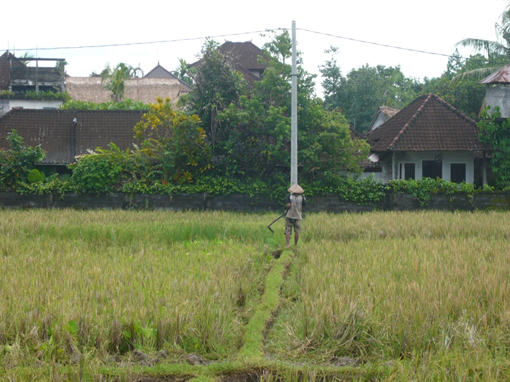 A few hours later, the worker in knee-deep mud pulled his rotary tractor around that field like he was mowing a lawn. The machine was (in my eyes) massive and yet he operated the tractor with such ease and skill. Wasn't he afraid he would get bitten?
If he was afraid, fear did not show in his face or his body language. On one of his many by-passers, he raised his rice hat and grinned. His toothless smile was priceless. It was nearly dark when he finished. The previous scruffy field was now ready for planting.
The farmer appeared as the worker was leaving. The hearty wave from the farmer acknowledging his gratitude of thanks to the worker, who nodded in return, raised his hand and then rode off into the sunset on his formidable tractor.
"There are snakes in that field," I yelled, walking slowly over to the farmer, also the owner of my small bungalow.
 "That's why I pay that man to work my field for me," he chuckled.  He walked up to the doorway of his grand little house, turned around and lifted one of his aging fingers, "Today, he was the king of the field."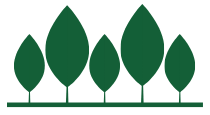 There's a saying in business 'work smarter, not harder,' and the 80/20 rule. When starting out in business with a small budget, we are the king of the field and the worker. On my daily to-do list was a string of tasks, from working with my book team to learning business systems and redesigning my website. And many times I got bogged down in the little tasks. When I started my small business course, the list grew dramatically. Then, one day I wrote a list of what was essential in launching my business. I already knew what I enjoyed doing and could improve through learning. The two big picture tasks were branding and my website.
I reached out to my book graphic designer and I spent time working through a branding journal and then a 1-hour zoom to work out what she needed to produce a story of my branding. The time and money I spent on this branding task was incredibly valuable and I started using the branding tools within all aspects of my business. It saved me a lot of time in designing my SM platforms and posts. The original logo design with fonts and style sheets was also the preparation I needed for my website.
With a tight budget, I researched government and local grants and found the WA ASBAS program. I signed up and worked with a content writer, social media specialist and finally found a WordPress guru. We worked together for six weeks, with weekly 2-hour back to back sessions. Each week we recorded the sessions for me to play back and learn how to update my site. I was given homework and encouraged to have a go, do more research and get creative with my business story. If I broke something, she could fix it and show me how to fix it!
There are some people that you meet in business that do more than just professionally produce what you need and tick the task box. The kings of your business field for a season will 'get' what you do and minimise your risks. Be patient to find them.
The WA ASBAS program ended in August 2021, with a new program and structure to start in September 2021.